Welcome to "Il Mondo di Amelia"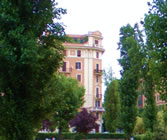 We'd love to welcome you to our beautiful Bed and Breakfast, which is centrally located in the heart of Rome, and positioned very near to St. Peter's Basilica. Our lovely B&B resides in a 1930 Umbertine building that gives way onto the genteel and quiet Piazza Strozzi. From here, many main Capital City monuments are easily reached by foot.
Our B&B is unique in that we have a love for hospitality and put care into every detail. We will provide you with modern and newly renovated rooms and a friendly and cosy atmosphere. Every room is equipped with the comforts of home, such as air conditioning, central heating, an LED TV, Internet WI-FI and a mini-fridge.Along with these accommodations, each morning you stay with us, we are happy to offer you a complimentary breakfast.